mina aquí pasa Ramcy con esta peli coreana q como siempre me gusta xD.....100 Days with Mr Arrogant...aish el titulo le cae al prota y con honores xD...Bueno a la prota la dejan en su aniversario de 100 días con su novio,luego de tan tan tan molesta le da una patada a una lata y esta llega hasta la cabeza del prota y el cual por despistado choca su gran Lexus 430 *.* convertible americano (aigoooo q dolor xD) ps como sea , el le exige q tiene q pagarle los daños del carro q fue una simple rayadura ,y le dice q son $ 3000, así q ella se escapa y se forma un lío y al final tiene q firmar un contrato de 100 días siendo su esclava..........
100 DAYS WITH MR ARROGANT
내 사랑 싸가지
Nae Sarang Ssagajy
100 Días con el Sr. Arrogante
Titulo Original: Nae Sarang Ssagajy /My Love Ssagajy Titulo Ingles: 100 Days with Mr Arrogant Titulo Español: 100 Días con el Sr Arrogante Genero: Comedia, Romance Año Lanzamiento: 16 enero 2004 Dirección:Dong-yeob Shin Duración: 95 min País: Corea
Después de ser dejada por su novio justo antes del aniversario de su día 100 juntos, Ha-Yo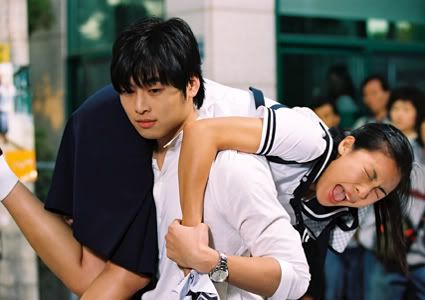 ung (Ha Ji-Won) se encuentra un universitario llamado Hyung-Joon cuando ella accidentalmente lo golpea en la cara y hace que él rasguñe su Lexus 430. Él le exige que a ella que pague 3000 $ al momento. Ella se escapa de él, olvidando su cartera.Hyung-Joon la acecha, exigiendo el dinero para pagar su coche. Ya que ella es una estudiante de instituto
pobre Hyung-Joon firma " un Acuerdo de Esclavitud " para Ha-Young para pagar por el daño hecho a su coche. Ha-Young es lanzada a una vida de esclavitud de pesadilla durante 100 días, limpiando su casa, controlando sus diligencias, haciendo su tarea y limpiando su coche.¡Por casualidad ella averigua que el daño al coche Hyung-Joon sólo cuesta 10 $! Ella entonces toma venganza.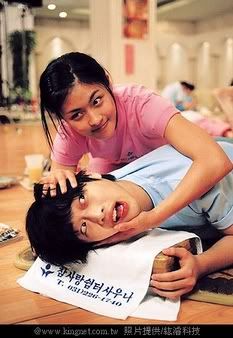 Kim Jaewon ... Ahn Hyung-jun Ha Ji-won ... Kang Ha-yeong Kim Tae-hyeon ... Yeong-eun Han Min ... Hyeon-ju Kim Chang-wan ... Padre de Ha-yeong Hong Ji-Yeong Kim Ji-yu Kim Min-kyeong Lee Eung-kyung ... Madre de Ha-yeong